---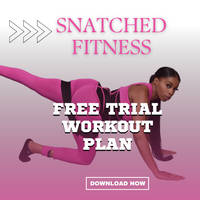 Do you need a quick workout boost? We're here to get you started!
For the next 5 days, you'll follow a beginner to moderate workout plan. 
These workouts will specifically target your abdomen, thighs and glutes area.

We strongly recommend women to follow a well balanced workout plan in the beginning of their fitness journey. This will help guide you towards your body goal accomplishments.
After you've completed, the free trial, download the actual 30 day snatched workout plan to continue your workout challenge.