---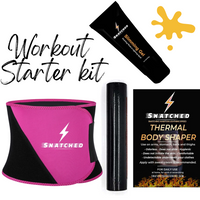 Get fit with the Workout Starter Kit! This bundle includes a sweat belt, slimming gel, and sauna wrap, designed to help burn excess calories and increase core temperature, leading to faster results. Perfect for beginners, this kit is designed for easy application and ensures maximum comfort and effectiveness.
Step one:
Apply a layer of the all natural ginger slimming gel. Subtle heat will then begin to rise (subsides after you become active). 
Step two:
Wrap the thermal body shaper around your waist. This quality plastic is designed to trap the heat for effective trimming results. 
Step three:
Fasten the waist trimmer "Sweaty Betty" for maximized sweat results! The neoprene embedded in this trimmer works to reduce water weight by producing 3X more sweat during your workout.